Conferences and CFPs
"VISIONS OF SUBURBIA"
Wednesday, Oct. 15, in TEC 128E&F from 12:30 –1:30p.m. Bergen Community College, New Jersey.
This program will focus on an important topic—The Image of Suburbia. A good deal of our notions about the middle landscape are derived from the images that have been created about it. This is a continuing theme for the Suburban Studies Group. This forum will focus on how artists, photographers, and set designers have depicted suburbia and their influence in creating a sense of place for the middle landscape.
                                                            The panel will consist of:
                                Claire McConaughy—Professor of Art , Bergen Community College
                     Kaye Demetz—Professor of Theater and Communications, Bergen Community College
                               Brian Cordell—Professor of English, Bergen Community College
In preparation for this forum, Prof Cordell has shown the exhibits to students. He requested that they write essays about their interpretations of the  sense of place created for the middle landscape and the influence this has had on the image of suburbia.
Come to this forum not only to see and hear professionals, members of the public, and students exchange views on the evolving  image of suburbia but to participate in this discussion.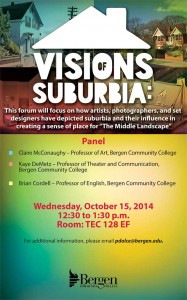 To see photographs, a programme and abstracts from the Imagining the Suburbs conference, please click here.
Website: http://suburbs.exeter.ac.uk                        Follow us on Twitter: @CulturesSuburbs