The Suburbs of Bengalaru
A primary aim of the Cultures of the Suburbs International Research Network, right from the outset, has been to establish global links with interested parties from a range of cultures and communities. We're delighted to have started a conversation recently with scholars at Jain University, Bangalore (Bengalaru) who have expertise and interest in this area, including Professor Choodamani Nandagopal and Dr Soumya Chavan. I'm here in Bangalore at the moment and have taken part in a fascinating symposium, organised by Professor Choodamani and colleagues, on the theme of "The Changing Suburban Culture of Bangalore."
As a new visitor to Bangalore, what struck me as I drove in from the international airport are the (proposed) new luxury and high-rise developments which, rather like in other growing cities such as Toronto, are planned for the peripheral land between the city centre (and its established suburbs) and the new global hub. Advertisements for these new residential communities shadow the road into town, promising purchasers such intangibles as a "life  changing experience" and "access to the many colours of nature". In this respect, the rhetoric brings to mind advertisements in the American popular press of the 1950s for Bill Levitt's Long Island developments and similar new suburban estates.  One of Professor Choodamani's colleagues, Rashmi Niranjan, contributed an intriguing paper to the symposium under the theme of "Urban & Suburban: A Study from the Perspective of Visual Culture." Her work traces the history of advertising in Bangalore and its suburbs with a particular interest in the adverts' material properties i.e. in advertisement hoardings as street furniture. More broadly, she is interested in the role advertisements play in focalising our view – and thus understanding – of particular environments. In Bangalore, there's a long history of the attempted legislation of the design of such hoardings, and, as importantly, of the language which they're permitted to use.
Another paper, by Dr Soumya Chavan, traced the history of Bangalore's suburbs from the C16th through to the present day. As Dr Chavan noted, this is an – as yet – unrecorded history. The city was founded by Kempe Gowda in 1537 as a mud fort, with two roads, and four gates, each of which was guarded by a sacred deity and marked by a temple. This structure forms the blueprint of the city such that, as Dr Chavan argued, to define the Bangalore suburbs today one must think not so much in terms of economic, planning, or juridical definitions, but in terms of relationship to particular sacred spaces. Professor Choodamani's own work – and that of her team of researchers – on the changing suburb of Yelahanka, Bangalore, focuses in particular on the role of sacred spaces in established suburbs, and the threat to these spaces from, for example, new flyovers, development around the new International Airport and the growth of multinationals and hi-tech corporations in the area. Similarly, Vibhavari Gupta's paper on the impact of Bangalore's new metro system on city and suburb alike explored the effects of suburbanisation in this specific region. As she noted, where typically suburbs have been defined as low density and low rise, in Bangalore (especially, for example, in Bayapanahalli, a new suburban "village" at the east end of the metro line), suburban development comprises high density and high-rise residential buildings.
There are some interesting questions here, then, about perceptions and definitions of suburbia and some suggestive points of comparison and difference. Thanks to the University of Exeter for funding this visit, and to Professor Choodamani and colleagues, Jain University, for making me so welcome.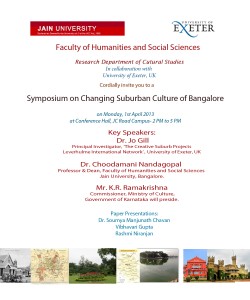 Below is a selection of photographs from the visit:
Dr. Choodamani Nandagopal (far left), Dr. Jo Gill, and Mr. K. R. Ramakrishana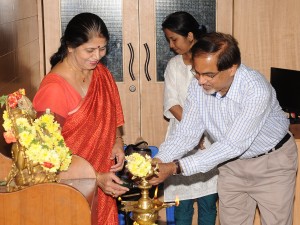 Dr. Choodamani Nandagopal and Mr. K. R. Ramakrishana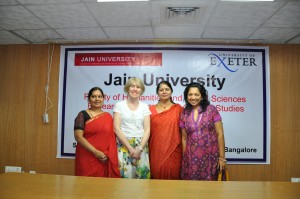 (from left to right) Dr. Soumya Manjunath Chavan, Dr. Jo Gill, Dr. Choodamani Nandagopal, and Vivienne Fenando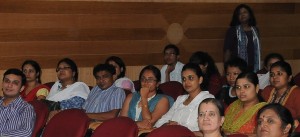 Participants and Research Students at the Symposium

Dr. Jo Gill and Dr. Choodamani Nandagopal with Faculty and Research Students of Cultural Studies